A Warren Court of Our Own
The Exum Court and the Expansion of Individual Rights in North Carolina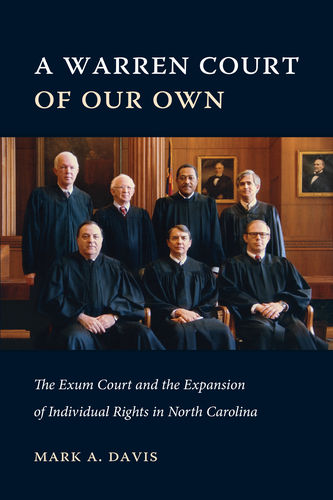 Already purchased in store?
Additional Book Details
In November of 1986, the North Carolina Supreme Court was at a crossroads. After virtually a century of dominance by the Democratic Party, Rhoda Billings, a Republican, had been appointed chief justice by Governor Jim Martin several months earlier. Martin had also appointed two Republican associate justices to join her on the court. These appointments resulted in a fierce battle over the next two months to determine whether the Republican Party could finally break the electoral stranglehold held by the Democrats and obtain control of the states highest court in the 1986 elections. Although five of the supreme courts seven seats were on the ballot that November, the focus of the attention was on the race for chief justice between Billings and the Democratic candidate, Jim Exum, who had served on the court for the previous twelve years. After being passed over by Governor Martin in favor of Billings despite North Carolinas longstanding gubernatorial tradition of appointing the senior associate justice to fill a vacancy for the position of chief justice, Exum resigned from the court to run against Billings.
Ultimately, the Democrats swept all five supreme court races on the ballot, ushering in Exums tenure as the head of the court. Over the next eight years, Exum presided over a supreme court thatdespite the existence of stark differences between several of the justices with regard to judicial philosophyissued numerous landmark decisions expanding the rights of criminal defendants, breathing new life into the declaration of liberties set out in the North Carolina Constitution, and significantly increasing the remedies available to individual plaintiffs in the areas of tort, employment, and workers compensation law.
While the expansion of individual rights by the United States Supreme Court under Chief Justice Earl Warren has been the subject of extensive academic commentary, very little has been written about the Exum Court. The dearth of scholarship on this subject is unfortunate because Exums tenure as chief justicelike Warrensconstituted an unprecedented era of judicial boldness.
This book is based primarily on a detailed review of the Exum Courts body of cases and over 45 interviews with the surviving justices from that era of the court, law clerks, practitioners, and members of North Carolinas legal academy. In addition, it draws upon contemporaneous interviews of the justices conducted between 1986 and 1995 as well as on the few existing books and articles about the members of the Exum Court and North Carolinas transformation into a two-party state in judicial elections.
A Warren Court of Our Own: The Exum Court and the Expansion of Individual Rights in North Carolina explores in depth the pathbreaking nature of the Exum Courts jurisprudence and the justices themselves in the hope of providing a better understanding of this unique and important period in the history of North Carolinas highest court and how it fundamentally changed North Carolina law.