Pixologic ZBrush 4R8: A Comprehensive Guide, 4th Edition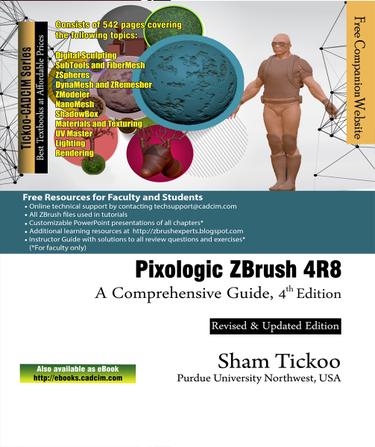 Already purchased in store?
Additional Book Details
Pixologic ZBrush 4R8 is a powerful modeling and sculpting software developed by Pixologic Inc. This software is used for developing highly detailed characters for movies, games, and digital design projects.
Pixologic ZBrush 4R8: A Comprehensive Guide textbook covers all features of ZBrush 4R8 in a simple, lucid, and comprehensive manner. It gives in-depth details of the concepts and explains the usage and functions of ZBrush such as DynaMesh, NanoMesh, ZRemesher, ZModeler, NanoMesh, and KeyShot renderer. In this edition, new features such as Gizmo 3D and the Live Boolean mode, which is used to generate boolean results, have been explained. This textbook will unleash your creativity and transform your imagination into reality, thus helping you create realistic 3D models. This textbook caters to the needs of both the novice and advanced users of ZBrush 4R8 and is ideally suited for learning at your convenience and at your pace.
Some of the Salient Features of this textbook are as follows:
Consists of 12 chapters and 1 project that are organized in a pedagogical sequence covering various aspects of modeling, texturing, lighting, and animation.
The author has followed the tutorial approach to explain various concepts of modeling, texturing, lighting, and animation.
The first page of every chapter summarizes the topics that will be covered in it.
Step-by-step instructions that guide the users through the learning process.
Additional information is provided throughout the book in the form of notes and tips.
Self-Evaluation test and Review Questions are given at the end of each chapter so that the users can assess their knowledge.
Technical support by contacting techsupport@cadcim.com.
Brief Table of Contents
Chapter 1: Exploring ZBrush Interface
Chapter 2: Sculpting Brushes
Chapter 3: Introduction to Digital Sculpting
Chapter 4: SubTools and FiberMesh
Chapter 5: ZSpheres
Chapter 6: DynaMesh, NanoMesh, and ZRemesher
Chapter 7: ShadowBox
Chapter 8: Materials in ZBrush
Chapter 9: Texturing in ZBrush
Chapter 10: UV Master
Chapter 11: Lighting
Chapter 12: Rendering
Project 1: Cartoon Character Modeling
Index