Exploring Oracle Primavera P6 v7.0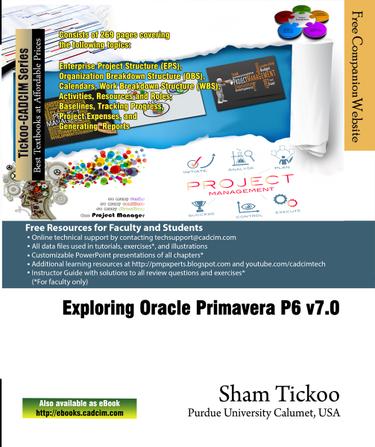 Already purchased in store?
Additional Book Details
Exploring Oracle Primavera P6 v7.0 textbook explains the concepts and principles of project management through practical examples, tutorials, and exercises. This enables the users to harness the power of managing project with Oracle Primavera P6 for their specific use. In this textbook, the author emphasizes on planning, managing and controlling project, assigning resources and roles to project, producing schedule and resources reports and graphics. This textbook is specially meant for professionals and students in engineering, project management and allied fields in the building industry.
Some of the Salient Features of this textbook are as follows:
Detailed explanation of Oracle Primavera concepts.
Projects given as tutorials.
Emphasis on why and how with explanation.
Tips and Notes throughout the textbook.
269 pages of illustrated text.
Self-Evaluation Tests, Review Questions, and exercises at the end of each chapter.
Free Teaching and Learning Resources:
CADCIM Technologies provides the following free teaching and learning resources with this textbook:
Technical support by contacting techsupport@cadcim.com
All data files used in tutorials, exercises (For Faculty only), and illustrations
Customizable PowerPoint Presentations of all chapters (For Faculty only)
Instructor Guide with solution to all review questions and exercises (For Faculty only)
Additional learning resources at https://pmpxperts.blogspot.in/and youtube.com/cadcimtech
Brief Table of Contents
Chapter 1: Getting Started with Primavera P6
Chapter 2: Creating Projects
Chapter 3: Defining Calendars and Work Breakdown Structure
Chapter 4: Working with Activities and Establishing Relationships
Chapter 5: Defining Resources and Roles
Chapter 6: Risks and Issues, and Settings Baselines
Chapter 7: Project Expenses and Tracking Progress of Project
Chapter 8: Printing Layouts and Reports
Index