The Role of Organisational Change Management in Offshore Outsourcing of Information Technology Services: Qualitative Case Studies from a Multinational Pharmaceutical Company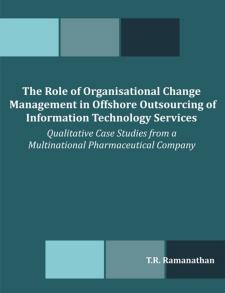 Already purchased in store?
Additional Book Details
This research study seeks to understand the nature of organisational change with respect to offshore outsourcing of information technology services in a multinational pharmaceutical company, and to examine the effectiveness of approaches used to manage this change so that lessons may be drawn from these experiences. Despite the abundant literature on effective organisational change management, the key factors that need to be managed properly at different stages of the offshore outsourcing process are not well understood. The research adopts a processual view to paint a broad picture of the issues involved in these different stages. A generic process model of change, based on the review of the change literature, was first developed to represent how change was intended to occur. This model focuses on the following four stages in the change process: context, diagnosis and planning, implementation, and institutionalisation. The research employs an interpretive case study approach and draws on fieldwork from three independent information systems departments (cases) of the company, where offshore outsourcing programmes were implemented. Qualitative data from semi-structured interviews, direct observation and document analysis are analysed by applying the generic process model to produce a detailed account of the way in which change was managed in the case organisations. The findings reveal that a combination of contextual factors, both external and internal to the company, influenced the adoption and use of offshore outsourcing in the case organisations. Externally, the economic forces were found to be the main catalyst for the change, while internally the role of the executive leadership and the lack of internal resources further explain the motivations behind the adoption of offshore outsourcing. The study illustrates that achieving successful outcomes from offshore outsourcing activities critically depends on the organisation adequately addressing a number of factors, such as conveying a sense of urgency, developing and communicating the vision, identifying the benefits of change and how they will be delivered, generating short-term wins, providing education and training, developing a fit between the change and organisational culture, etc., throughout the change process. The findings also highlight the effects of offshore outsourcing on the case organisations, including change in job roles and responsibilities and organisational learning activities that enable corrective actions to improve change management efforts. An important contribution of this research is the development of a model providing a more comprehensive understanding of the change process associated with the implementation of offshore IT outsourcing. Recommendations for policy makers and change managers to improve change management practice based on the research findings, as well as recommendations for further research, form a significant part of the conclusions.
| | |
| --- | --- |
| Sold By | Dissertation.com |
| ISBNs | 9781612333977, 1599427095, 9781612333977 |
| Language | English |
| Number of Pages | 185 |