Here's How to Teach Voice and Communication Skills to Transgender Women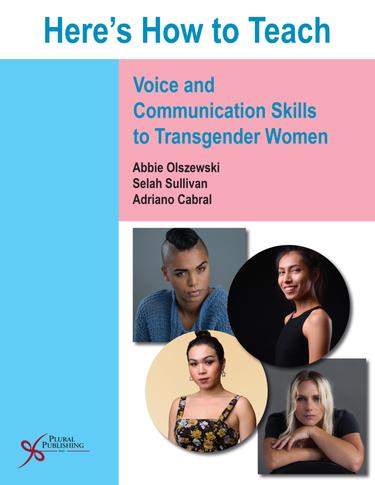 Already purchased in store?
Additional Book Details
Here's How to Teach Voice and Communication Skills to Transgender Women is a detailed guide to help speech-language pathologists (SLPs) provide instruction for male-to-female (MtF) transgender women during their transition process. This program guides SLPs to safely modify a MtF transgender woman's voice through behavioral modification therapy. SLPs can teach this population how to modify their voice through good vocal hygiene, vocal relaxation, breath support, pitch, resonance, breathiness, and verbal and nonverbal communication exercises.
This text presents the Voice and Communication Program for Transgender Women (VCMtF Program), which was developed to train graduate speech-language pathology students how to deliver voice and communication services. The purpose of this text is to share the VCMtF Program with other SLPs who will provide voice and communication services to transgender women. The VCMtF Program is unique because it is easy to use, manualized, and systematically targets voice, verbal communication, and nonverbal communication. Included in this text are resources for the clinician, an introduction to the VCMtF Program, methods and materials for assessment, and comprehensive program sessions.
The VCMtF Program is divided into eight sessions with step-by-step instructions for every exercise. Each session is organized using material lists, approximate times, teaching methods, check-ins, feedback, and homework. There are check boxes to mark off the completion of exercises in each area of the program and there is space for the SLP to make clinical observations. Exercises and targets are set up within a hierarchy so that the level of difficulty may be tailored to each client's abilities and how far she has advanced in the VCMtF Program. Also included is a PluralPlus companion website with videos to support the exercises used in the program.