Neuroscience Fundamentals for Communication Sciences and Disorders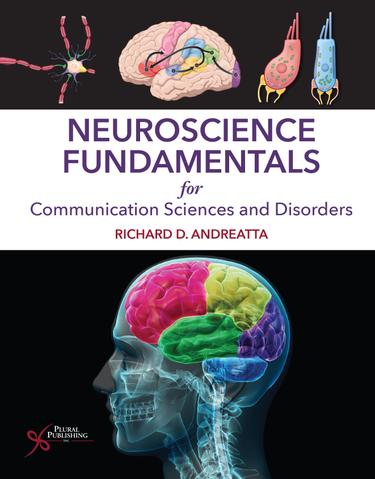 Already purchased in store?
Additional Book Details
Neuroscience Fundamentals for Communication Sciences and Disorders,is a comprehensive textbook designed for undergraduate neural bases or graduate neuroscience courses in communication sciences and disorders programs (CSD). Written with a fresh user-friendly conversational style and complemented by more than 350 visually rich and beautifully drawn full-color illustrations, this book emphasizes brain and behavior relationships while also ensuring coverage of essential neuroanatomy in an integrative fashion. With a comprehensive background in neuroscience fundamentals, students will be able to better understand and apply brain-behavior relationships to make appropriate clinical assessments and treatment decisions.
Neuroscience Fundamentals for Communication Sciences and Disorders,is designed to provide CSD students with a broad overview of the principles, processes, and structures underlying the workings of the human nervous system. Extending well beyond traditional neuroanatomy-based textbooks, this publication is designed to satisfy three major goals:
Provide neuroanatomical and neurophysiological detail that meets the real-world needs of the contemporary CSD student, as they move forward toward clinical practice, and into the future where advancements in the field of health and brain sciences are accelerating and contributing more and more to rehabilitation.
Provide clear, understandable explanations and intuitive material that explains how,and why,neuroanatomical systems, processes, and mechanisms of the nervous system operate as they do during human behavior.
Provide a depth and scope of material that will allow students to read, better understand, and appreciate a wide range of evidence-based literature related to behavior, cognition, emotion, language, and sensory perception--areas that directly impact treatment decisions.
Key Features
An emphasis on fundamental information on neuroanatomy, neurophysiology, and functional processes using an analogy-driven and relaxed conversational writing style.
More than 350 new and beautifully illustrated full-color neuroanatomical and neurophysiological figures that work to bring the written material to life.
Content is divided into four major sections that build upon each other to foster a comprehensive understanding of the nervous system from the cellular to systems.
Three summary chapters on the neural bases of speech, language, and hearing that help integrate the basic information from earlier chapters with content specific to CSD.
Each chapter begins with an introduction and learning objectives and ends with a top ten summary list of key take-home concepts and study review questions.
Bolded key terms throughout with a comprehensive glossary of definitions.
Clinical Importance boxes highlight clinically relevant disorders and syndromes that compliment topic coverage.
Further Interest boxes highlight interesting and exciting facts about the nervous systemS structure, physiology, and functionality.