AutoCAD Plant 3D 2020 for Designers, 5th Edition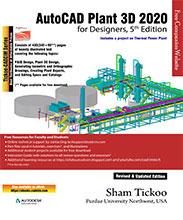 Already purchased in store?
Additional Book Details
The AutoCAD Plant 3D 2020 for Designers book introduces the readers to AutoCAD Plant 3D 2020, one of the worlds leading application, designed specifically to create and modify P and IDs and plant 3D models. In this book, the author emphasizes on the features of AutoCAD Plant 3D 2020 that allow the user to design piping & instrumentation diagrams and 3D piping models. Also, the chapters are structured in a pedagogical sequence that makes this book very effective in learning the features and capabilities of AutoCAD Plant 3D 2020.
Special emphasis has been laid in this book on tutorials and exercises, which relate to the real-world projects, help you understand the usage and abilities of the tools available in AutoCAD Plant 3D 2020. You will learn how to set up a project, create and edit P&IDs, design a 3D Plant model, generate isometric/orthographic drawings, as well as how to publish and print drawings.
Salient Features of the Book:
Comprehensive coverage of AutoCAD Plant 3D 2020 concepts and techniques.
Tutorial approach to explain the concepts of AutoCAD Plant 3D 2020.
Detailed explanation of all commands and tools.
Summarized content on the first page of the topics that are covered in the chapter.
Step-by-step instructions to guide the users through the learning process.
Real-world mechanical engineering designs as tutorials.
Additional information throughout the book in the form of notes and tips.
Self-Evaluation Tests and Review Questions at the end of each chapter to help the users assess their knowledge.
Table of Contents
Chapter 1: Introduction to AutoCAD Plant 3D
Chapter 2: Creating Project and P&IDs
Chapter 3: Creating Structures
Chapter 4: Creating Equipment
Chapter 5: Editing Specifications and Catalogs
Chapter 6: Routing Pipes
Chapter 7: Adding Valves, Fittings, and Pipe Supports
Chapter 8: Creating Isometric Drawings
Chapter 9: Creating Orthographic Drawings
Chapter 10: Managing Data and Creating Reports
Project: Thermal Power Plant (For free download)
Index
Free Teaching and Learning Resources:
CADCIM Technologies provides the following free teaching and learning resources with this book:
Technical support by contacting techsupport@cadcim.com
Part files used in tutorials, exercises *, and illustrations
Instructor Guide with a solution to all review questions and instructions to create the models for exercises *
Additional learning resources at https://allaboutcadcam.blogspot.com and youtube.com/cadcimtech ( * For Faculty only)