Children with Hearing Loss
4th Edition
Developing Listening and Talking, Birth to Six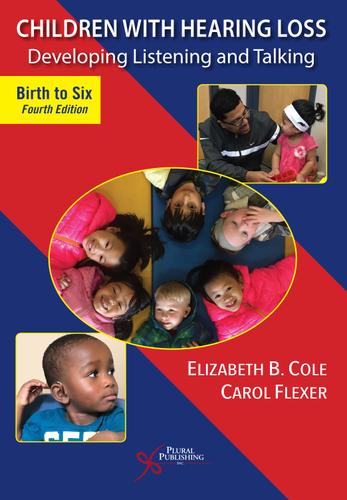 Already purchased in store?
Additional Book Details
The fourth edition of Children With Hearing Loss: Developing Listening and Talking, Birth to Six is a dynamic compilation of important information for the facilitation of spoken language for infants and young children with hearing loss. This text covers current and up-to-date information about auditory brain development, listening scenarios, auditory technologies, spoken language development, and intervention for young children with hearing loss whose parents have chosen to have them learn to listen and talk.
The book is divided into two parts. Part I, Audiological and Technological Foundations of Auditory Brain Development, consists of the first five chapters that lay the foundation for brain-based listening and talking. These chapters include neurological development and discussions of ear anatomy and physiology, pathologies that cause hearing loss, audiologic testing of infants and children, and the latest in amplification technologies. Part II, Developmental, Family-Focused Instruction for Listening and Spoken Language Enrichment, includes the second five chapters on intervention: listening, talking, and communicating through the utilization of a developmental and preventative model that focuses on enriching the childs auditory brain centers.
New to the Fourth Edition:
* All technology information has been updated as has information about neurophysiology.
* The reference list is exhaustive with the addition of the newest studies while maintaining seminal works about neurophysiology, technology, and listening and spoken language development.
* New artwork throughout the book illustrates key concepts of family-focused listening and spoken language intervention.
Disclaimer: Please note that ancillary content (such as documents, audio, and video, etc.) may not be included as published in the original print version of this book.