Dictators and Dictatorships: Artistic Expressions of the Political in Romania and Chile (1970s-1989): No paso nada…?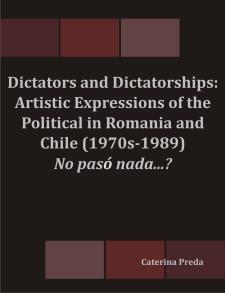 Already purchased in store?
Additional Book Details
The comparison of the relations between arts and politics during the regimes of Nicolae Ceausescu and Augusto Pinochet in the period 1974-1989 represents the privileged object of study. These two cases of study are considered as extreme cases on an axis of the study of the relation between art and politics in modern dictatorships. Thus, the question answered by this investigation is: How is art imagined and affected by a modern dictatorship? This interrogation is divided in the two grand lines of investigation: the art of dictatorships (at the impulse of) and the art under dictatorships (works of art as symptoms of survival through creation, symbols used). These two study directions are found in the two questions that articulate the analysis: (1) Which are the strategies of the two regimes in relation to the arts and how are these constructed? And (2) How does the artistic space react and how does this affect the political regime? The main hypothesis to answer these questions (my thesis) is that despite the differences between the cases analyzed, the mechanisms and strategies that these use are similar (prevent, the marginalization of other imaginaries than the official ones) and so are the effects these produce (any artistic reaction is realized in relation to the political). In other words, I affirm that the two regimes accomplish each other's purpose. A secondary hypothesis is that the Pinochet regime had a program, an official policy in what regards the arts – there was, in other words, an official art and the Ceausescu regime did not accomplish to obtain the unanimity of artistic discourses bearing on the contemporaneity. So as to realize the comparison and demonstrate the thesis I analyzed on one side the official art (the position of the two regimes in what regards the arts and what this should do) and on the other side the art produced during these dictatorships. These two directions are to be found in the structure of the thesis. Thus, the first part, "The Art of Dictatorships" includes 2 chapters: ideology and how this translates into institutions and an analysis of the way in which the economy and the articulation of society affect the arts. The second part, "The Art under Dictatorships" analyzes in its 2 chapters both art that respects official directives and the art that chooses to ignore them, to get passed them or to confront them.
| | |
| --- | --- |
| Sold By | Dissertation.com |
| ISBNs | 9781612339924, 9781612339924, 1599423103 |
| Language | English |
| Number of Pages | 382 |