Assessment of Communication Disorders in Children
4th Edition
Resources and Protocols, Fourth Edition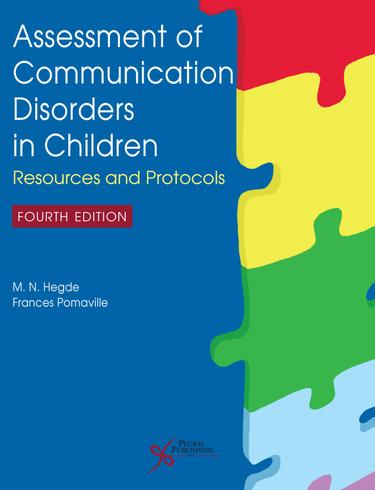 Already purchased in store?
Additional Book Details
Assessment of Communication Disorders in Children: Resources and Protocols, Fourth Edition offers a unique combination of scholarly information, invaluable resources, and time-saving protocols on assessment of the full range of communication disorders in children, including nonverbal or minimally verbal children.
Most resource books offer limited research and scholarly information, thus making them unsuitable as textbooks for academic courses on assessment and diagnosis. Similarly, most traditional textbooks do not include practical, easy-to-use, and time-saving resources and protocols that the practicing clinicians can readily use during assessment sessions. By combining the strengths of traditional texts with newer assessment resources and protocols, this one-of-a-kind book offers a single, comprehensive source that is suitable as a textbook and useful as a practical clinical resource.
This bestselling and trusted text:
* Includes an extensive discussion of issues in using standardized tests along with detailed information on psychometric principles and offers a detailed discussion of alternative assessment approaches that minimize the problems inherent to standardized tests
* Describes a new, comprehensive, and integrated assessment approach that derives its strengths from the traditional as well as several alternative approaches
* Addresses the multicultural issues in assessing communication disorders in children and integrates culturally responsive assessment procedures into the assessment protocols
* Contains two chapters for each disorder: one on resources that offers scholarly and research background and one on resources that describe practical procedures and protocols that save the clinicians preparation time
New to the Fourth Edition:
* A new section on the assessment of voice in transgender and gender diverse adolescents
* A new section on selective mutism in bilingual children, included in alternative and integrated assessment of ethnoculturally diverse children
* All normative tables placed in relevant chapter appendices for quick access
* The content has been updated throughout to reflect the current state of research
* Updated diagnostic features of all childhood communication disorders
* All protocols streamlined and edited for precision (in book and on website)
* Updated resources for commonly used assessment instruments and standardized tests, now available on the companion website
* All defined and key terms are now bolded
* Simplified writing style and reduced redundancy for increased readability and comprehension