Person-Centered Memory and Communication Interventions for Dementia
1st Edition
A Case Study Approach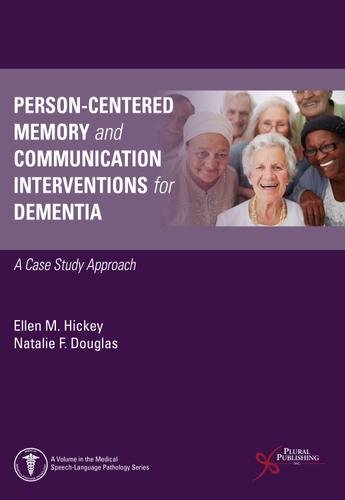 Already purchased in store?
Additional Book Details
Person-Centered Memory and Communication Interventions for Dementia: A Case Study Approach is the third volume in the Medical Speech-Language Pathology book series. It is a practical, peer-reviewed resource for speech-language pathologists (SLPs) working with people with dementia. In this unique text, the authors cover a variety of evidence-based clinical procedures for the memory, communication, and behavioral challenges of people with dementia. The aim is to empower SLPs and other clinicians to implement practices that elevate the personhood of people living with various dementia syndromes.
Throughout this clinician-friendly text, the authors cover three main areas of focus: elevating personhood, the how tos of clinical procedures, and the organizational-level barriers and facilitators to implementation. After an introductory chapter, the next eight chapters describe a detailed case study that explains specific person-centered assessment and treatment methods. The cases depict a diverse group of people providing insights into the range of concerns and joys involved in supporting memory and communication in a manner that is culturally responsive and equitable.
Key Features:
* The only dementia text that incorporates a culturally responsive approach to cases that reflect the increasing diversity of the aging population
* Specific examples of the how tos of person-centered, evidence-based care
* Detailed personal, assessment, and treatment histories for each case, with a table of goals and intervention procedures, as well as illustrations of memory and communication strategies
* Each chapter starts with an At-A-Glance section to highlight the person and ends with a summary of key points of the treatment and implementation factors
* Uses a highly readable writing style with boxes, tables, and figures to support the text