Examining Wrongful Convictions
Stepping Back, Moving Forward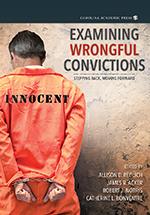 Already purchased in store?
Additional Book Details
In Examining Wrongful Convictions: Stepping Back, Moving Forward, the premise is that much can be learned by stepping back from the focus on the direct causes of wrongful convictions and examining criminal justice systems, and the sociopolitical environments in which they operate. Expert scholars examine the underlying individual, systemic, and social or structural conditions that may help precipitate and sustain wrongful convictions, thereby moving forward the related scholarship.
"Examining Wrongful Convictions is a book that has no equal. With full and up-to-date chapters dedicated to the unique vulnerability of adolescents, insufficiently protected; the enabling role of a muddled news media, including the internet; the plight of African Americans; the invisible and often pernicious effects of adversarialism; the mechanisms of plea bargaining, now responsible for 97% of convictions; psychological perspectives on miscarriages of justice; public policy implications; and the methods of empirical research that can be used to study innocence; this book is destined to become that kind of book that all judges, prosecutors, defense lawyers, criminal justice professionals, and social scientists interested in innocence will find indispensable." Saul Kassin, Distinguished Professor of Psychology, The John Jay College of Criminal Justice, NYC