Teaching Boys and Young Men of Color
A Guidebook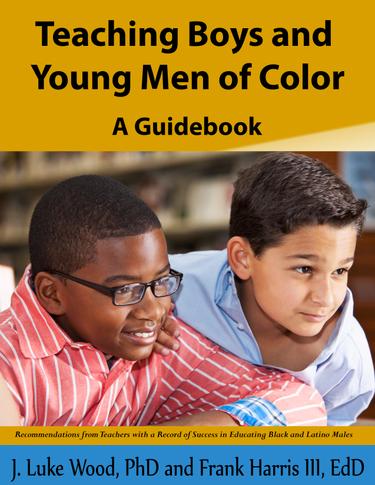 Print On Demand Available
Print on Demand books are individually printed when an order is placed and typically arrive between 7 - 10 business days. When placing an order, you'll be asked to choose a shipping address or pickup location.
Additional Book Details
This guidebook reports on recommendations from a national study of teachers with a proven record of success in teaching boys and young men of color. Recommendations for relationship-building, teaching and learning practices, and classroom management are extended. To purchase or inquire about multiple copies contact bherrin@coralearning.org.
"This volume provides a compelling array of promising practices that educators can use to enhance the success of Black and Latino males in education. This book transcends previous works on this topic by focusing on what can be done rather than what is wrong. This transition away from deficits and problems to assets and solutions makes Teaching Boys and Young Men of Color a must read." - Tyrone C. Howard, University of California, Los Angeles
"Guided by results from their national study of teachers with records of success in educating one of our nation's most underserved populations, Wood and Harris thoughtfully articulate strategies for effectively educating boys and young men of color. Their work provides a compelling rationale for revised and enhanced teaching approaches that account for external pressures, racial and gender identities, stereotypes, and cultural factors that necessitate unique pedagogical practices. Educators who teach boys of color will benefit from this volume" - Shaun R. Harper, University of Pennsylvania
"Teaching Boys and Young Men of Color: A Guidebook is a fresh and exciting contribution to the conversation on improving outcomes for young males of color. This guidebook provides critical steps that we can use to make a difference in the lives of young men of color. I highly encourage everyone to acquire this book as an essential part of their library. This book paves the path to making a difference. I applaud the authors for showing us the way!" - Chance W. Lewis, University of North Carolina, Charlotte
| | |
| --- | --- |
| Sold By | Lawndale Hill Publishing |
| ISBNs | 9780997218022, 9780997218008 |
| Publish Year | 2016 |
| Language | English |
| Number of Pages | 95 |
| Website | coralearning.org |