Succeeding in Law School
2nd Edition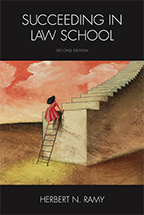 Already purchased in store?
Additional Book Details
As the Director of Suffolk University Law Schools Academic Support Program, Professor Ramy begins receiving phone calls from new 1Ls as early as May. Their common question: What do I need to do to succeed in law school? Professor Ramy has written the second edition of Succeeding in Law School to help answer this question.
This edition of the book has several new chapters that are geared toward success both in law school and in the job market. A new chapter on legal analysis addresses one of the most common problems professors see on law school exams the absence of the counterargument. New materials on interviewing techniques, creating a writing sample, and writing a resume are designed to help students market themselves to prospective employers. Whether students are seeking advice in the summer months or are looking for help once the school year has begun, this book is an important tool for helping them get the most out of their abilities.