Serial Killers
Understanding Lust Murder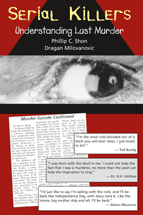 Already purchased in store?
Additional Book Details
Serial Killers: Understanding Lust Murder, edited by Phillip C. Shon and Dragan Milovanovic, is a collection of ten chapters on the nature, expression, development, and possible responses to this recently popularized form of crime. These forms of serial killings not only involve continuous killings but some form of perverse sexual relations with the victim or body of the victim. Perhaps brought to public attention by some dramatic cases involving Jeffrey Dahmer, Robert Bundy, John Gacy, and Denis Rader and popular media presentations such as The Silence of the Lambs (1991), the examination of this phenomenon is only recently entering more scholarly scrutiny.
This book includes various notable scholars in the field, from theoreticians to practitioners, and is divided into three parts. The first part develops theories of sexual homicide and the development of predatory laws. It examines the history of serial lust homicide, definitions, and motivational models. It also includes attempts at integrative approaches. The second part develops such forms of lust serial killing as piquerism, paraphilia, and necrophilia. The third part concerns the effects of the media, as well as phenomenological, existential, and "edgework" oriented approaches. Serial Killers not only brings the phenomenon under a keen theoretical and empirical investigation, shedding more scholarly insights on the phenomena, but it suggests methods for developing research hypotheses for academicians and for presenting practitioners with further insights into the fiel