The Nature and Scope of Individual Rights
Emerging Debates in Constitutional Law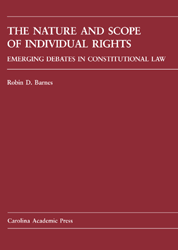 Already purchased in store?
Additional Book Details
The Nature and Scope of Individual Rights provides historical context for the cases, articles and wide range of materials presented throughout the book. Readers explore how theories of social freedom and governance were developed and articulated in national debates on the most controversial matters of law and social science. Comparing specific legislation with purported state interests yields insights into judicial processes in those areas where law appears to operate without an obvious correlation between ends and means.
The book covers topics related to military conscription, euthanasia, capital punishment, monogamy, incest, marital and statutory rape, race, gender, sexual orientation, workplace privacy, and public response to the Patriot Act, as changes in domestic surveillance and telecommunications technology continue to transform the dialogue around privacy. Barnes ultimately encourages readers to consider how many of these debates are consistent with (or even worthy of) our highest aspirations in relation to liberty, autonomy and governance for the general welfare.