Strategic Analysis for Healthcare Concepts and Practical Applications
1st Edition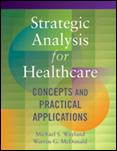 This title has been removed from sale.
Additional Book Details
"he healthcare environment is changing rapidly, and so are the skill sets needed for successful organizational leadership in the field. Strategic Analysis for Healthcare: Concepts and Practical Applications arms readers with strategic analysis methods, tools, and frameworks, and builds a foundation of practical experience to prepare students for their future careers. This unique workbook introduces students to analysis and strategy development through examples within healthcare as well as from outside industries where strategic analysis has been key to organizations survival and success. After a brief introduction to business strategy, the book covers a sequence of strategic analysis tools, logically arranged into sections on broad analysis, focused analysis, integrative analysis, strategy development, and strategy selection. Application exercises grow in complexity from one chapter to the next as students develop new skills. Future-perfect thinking and affinity charts
Five forces, PEST, and SWOT analyses
Financial statement and ratio analyses
Life cycle and corporate culture analyses
Internalexternal and grand strategy matrices
Quantitative strategic planning matrix and profitability projections"