The Well Managed Healthcare Organization
8th Edition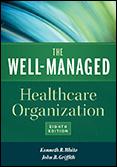 This title has been removed from sale.
Additional Book Details
"he Well-Managed Healthcare Organization is the most comprehensive text on healthcare management. Drawing on the experiences of high-performing and Baldrige Award-winning organizations, it details how to manage a healthcare organization using evidence, best practices, benchmarks, and a culture of continuous improvement. This popular resource has prepared thousands of healthcare management, nursing, medical, allied health, and health information management students to effectively lead in healthcare organizations (HCOs). This edition describes how HCOs are responding to the Affordable Care Act by increasing their role in population health management and expanding their focus from acute to comprehensive care. In particular, this edition discusses: Creating accountable care organizations and patient-centered medical homes
Shifting from a volume to a value focus
Creating a culture of high reliability to improve outcome measures
Designing the electronic health record to meet meaningful use standards and incorporate big data
Building cooperative teams through workforce planning and inclusion"