Health Policy Issues: An Economic Perspective
6th Edition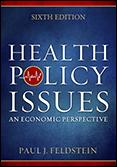 This title has been removed from sale.
Additional Book Details
"The Affordable Care Act (ACA), the most significant public policy enacted in many years, affects all aspects of healthcare financing and delivery. Health Policy Issues: An Economic Perspective, Sixth Edition, has been thoroughly revised to explain the magnitude of this legislation and how it affects everyone, including physicians, hospitals, employers, employees, insurers, the uninsured, and state and federal governments. Renowned economist Paul Feldstein not only addresses the underlying issues and politics of healthcare but also explains why the health system has evolved to its current state. Thirty-six short, topical chapters give students a comprehensive overview of the delivery of medical services through a unique economic perspective. Reflecting the widespread implications of the ACA, specific components of the ACA are discussed in the context of many of the books chapters. Consequently, the ACA is linked to topics such as: he rise of medical expenditures
The high price of prescription drugs
The impending shortage of physicians
The future role of hospitals
The evolution of managed care"