Against the Tide
1st Edition
How a Compliant Congress Empowered a Reckless President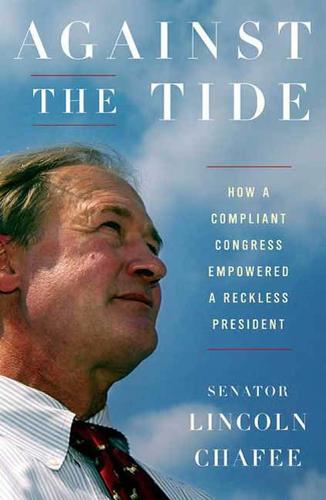 Already purchased in store?
Additional Book Details
In this smart, candid, and surprising political memoir, Lincoln Chafee offers a behind-the-scenes look at the first six years of the Bush Administration from the vantage point of one of the few Republican moderates in the Senate.
When Senator Chafee (R-RI) went to Washington, he encountered a Republican Party drifting so far to the right it no longer stood for the mainstream principles that united Americans. Instead, under the direction of George W. Bush, the Party had fallen victim to extremism. In the face of this trend, Chafee stood fast as one of the most liberal Republicans in the Senate, seeking to cut across partisan lines at the very time that they threatened to irrevocably divide the nation.
A political iconoclast, Chafee was the only Republican senator to have expressed support for same-sex marriage; the only Republican to vote in favor of reinstating the top federal tax rate on upper-income payers; the only Republican in the Senate to have voted against authorization of the use of force in Iraq; the only Republican to vote for the Levin-Reed amendment calling for a nonbinding timetable for a withdrawal of U.S. troops from Iraq; and the only Republican to vote against Supreme Court nominee Samuel Alito. Chafee favored increased federal funding for health care, supported affirmative action and gun control, supported women's reproductive rights, and endorsed federal funding for embryonic stem cell research. Sometimes referred to by conservatives as a RINO (Republican in Name Only), Chafee turns the tables on the right and asks why it has enabled Bush Jr. to pull the GOP and the nation away from traditional principles of fiscal conservatism, respect for our environment, and aversion to foreign entanglements.
Unabashedly frank, Chafee's memoir recounts his political journey from small-town mayor to a voice crying from the congressional wilderness. He offers a forward-looking assessment of what comes next for the Republican and Democratic parties, and he also addresses the potential rise of a third party within the void created by bipartisan extremism. Most important, Chafee sounds a wake-up call to his Party, and to all Americans, by challenging our government to strive, as Abraham Lincoln once articulated, "to elevate the condition of men."
| | |
| --- | --- |
| Sold By | St. Martin's Press |
| ISBNs | 9780312383046, 1429934425, 0312383045, 9781429934428, 1429934425 |
| Language | eng |
| Number of Pages | 272 |
| Edition | 1st |