The Battle of Milroy Station
1st Edition
A Novel of the Nature of True Courage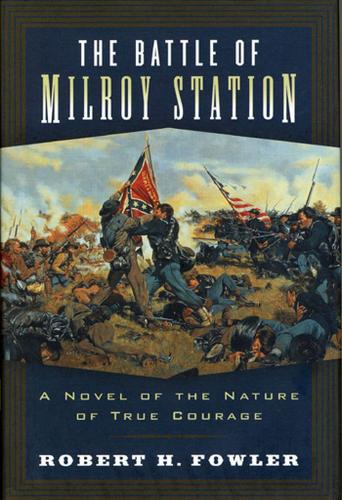 Already purchased in store?
Additional Book Details
What is the nature of true courage?
In March of 1896, Andrew Jackson Mundy, a senator from the Deep South, is secretly urged by Marc Hanna, the rich kingmaker, to become William McKinley's running mate in the upcoming presidential election. Hanna argues that Mundy, a reconstructed Southern Democrat and wounded Confederate veteran of the Civil War, running with McKinley, a Republican veteran of the Union Army, would help to heal the still festering wounds and head off threats posed by William Jennings Bryan.
Had Mundy jumped party lines and seized the opportunity, he, rather than Teddy Roosevelt, would have become President of the United States upon McKinley's assassination a few years later. Mundy had been tempted to accept Hanna's offer why did he refuse?
Thus begins a story that goes back to the War Between the States. At the beginning of the Civil War, before the death of hope, no one, least of all the naive, well-read Andrew Jackson Mundy, could foresee or understand the nature of the war they were to fight. Early on, Mundy comes under the spell of the immensely talented and ambitious Evan Martin. When Martin is given the command of a ragtag Confederate army sent to thwart a Federal invasion, Mundy is at first thrilled to be the aide-de-camp of his hero as Martin pulls the army together and wins victories with brilliant tactics. But then, Mundy becomes involved in an atrocity that forces him to consider the nature of true courage and honor. It is a dark, murderous infamy, and it will haunt Andrew Jackson Mundy until his dying day . . . and prevent him from accepting Marc Hanna's offer more than three decades later.
Through the experiences of Andrew Jackson Mundy, General Evan Martin, and dozens of other skillfully drawn, colorful characters, Robert H. Fowler provides the reader with fascinating insights into the tactics and strategy of Civil War battles, as well as the grim reality of the forced marches, the blood-torn bodies, the ear-splitting voice of massed artillery, the racket-rattle of musket volleys, the howling charges. It is a tale, at once forlorn and wonderful, of a war bravely fought and bitterly lost. In this brilliant and thrilling story, reminiscent of the novels of MacKinlay Kantor and Michael and Jeff Shaara, Fowler reveals the nature of true courage and brings a tumultuous chapter in American history to poignant life.
At the Publisher's request, this title is being sold without Digital Rights Management Software (DRM) applied.
| | |
| --- | --- |
| Sold By | Tom Doherty Associates |
| ISBNs | 146683885X, 076530659X, 9780765306593, 9781466838857, 146683885X |
| Language | eng |
| Number of Pages | 320 |
| Edition | 1st |